Were you aware of these beauty benefits of salt?
Last updated on - Mar 14, 2019, 09:58 IST
11

/12

Body Scrub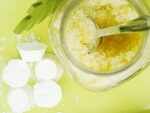 Salt also happens to be a natural exfoliant that can get rid of dead cells from your skin. In a bowl, take a quarter-cup salt and add half-cup olive oil or softened coconut oil. Mix these well and add 10 drops of your favourite essential oil. Apply it on your skin and gently exfoliate by rubbing your skin in circular motions. Once done, rinse it off with water.
readmore
12

/12

Rejuvenating Scrub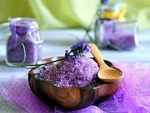 For this scrub, you'll need half-cup salt, a quarter-cup pure aloe vera juice or gel, a quarter-cup oil of your choice, one tablespoon dried lavender flowers, and 10 drops essential lavender oil. Mix all these ingredients together to form a thick paste. Apply it in the shower and then exfoliate your skin. Rinse it off once you're done.
readmore